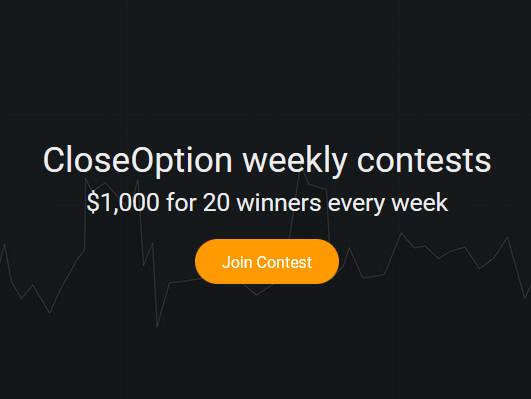 Weekly competition with updated rules and conditions.
We would like to notify all interested participants about the CloseOption competition series. Here are the specifications for this week's competition.
In this contest, users can enter for free without a deposit history, providing an excellent opportunity for those interested.
The contest will be held on a demo account with the following specifications:
Start Date: 14/11/2023
End Date: 17/11/2023
Prize Pool:

$1000

cash prizes for the top 20 competitors
Entry and participation for the first time: free and without fee
Recharges: 3 or 5 dollars, according to the user's choice
Winning Criteria: Highest account balance at competition end
Prize Withdrawals: No restrictions – cash prizes will be directly deposited
Eligible Countries: All approved countries may compete
For more information and to seize this incredible opportunity, head over to the Contest page and unleash your trading prowess.
CloseOption Team
www.closeoption.com
Join Us to Learn How to Succeed in Your Trading
person_addRegister