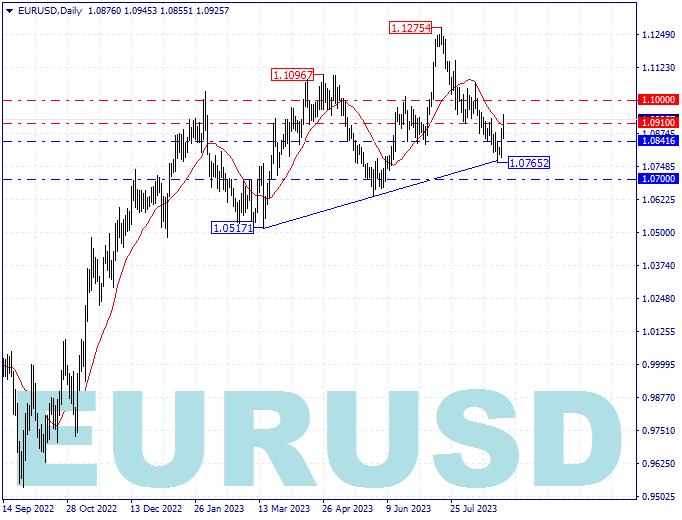 Technical Analysis of EUR/USD currency pair on 2023.08.30
• First key support level of EUR/USD: 1.08416
• Second Key support level of EUR/USD: 1.078286
• Third Key support level of EUR/USD: 1.07
• First key resistance level of EUR/USD: 1.1
• Second Key resistance level of EUR/USD: 1.104
• Third Key resistance level of EUR/USD: 1.114414
• First key support level of USD/CHF: 0.87599
• Second Key support level of USD/CHF: 0.8716
• Third Key support level of USD/CHF: 0.87
• First key resistance level of USD/CHF: 0.88036
• Second Key resistance level of USD/CHF: 0.8819
• Third Key resistance level of USD/CHF: 0.885874
• First key support level of GBP/USD: 1.261974
• Second Key support level of GBP/USD: 1.256596
• Third Key support level of GBP/USD: 1.254681
• First key resistance level of GBP/USD: 1.27291
• Second Key resistance level of GBP/USD: 1.28
• Third Key resistance level of GBP/USD: 1.284416
• First key support level of USD/JPY: 146
• Second Key support level of USD/JPY: 145.749
• Third Key support level of USD/JPY: 145
• First key resistance level of USD/JPY: 146.534
• Second Key resistance level of USD/JPY: 147.334
• Third Key resistance level of USD/JPY: 148.784
Technical Analysis of EUR/USD currency pair on 30/08/2023.
The previous analysis of EUR/USD dated 08.09.2023 observed a downward trend in the price with potential for correction and rise. It is worth noting that the buyers successfully achieved both targets mentioned in the analysis, indicating a positive outcome for this trading pair.
The EUR/USD currency pair has experienced a bearish trend for the past six weeks, with sellers reaching the lowest price level of 1.07652.
Over more extended periods, like a week, there is a higher chance of the price correcting itself after a recent drop in the chart. However, this correction may be weak. If the price dips below 1.07652, there is a risk that it may fall further and reach the critical support level of 1.07000.
In the current situation, the price has reached a price floor after hitting the upward trend line, which consists of two support points, during its descent.
Due to overselling and a Spinning top candlestick pattern, there is a signal of weakening sellers in shorter timeframes, such as daily.
If the price floor is set at 1.07652, the price could rise to the critical resistance levels of 1.091 and 1.1 in the next stage.
CloseOption Team
Join Us to Learn How to Succeed in Your Trading
person_addRegister