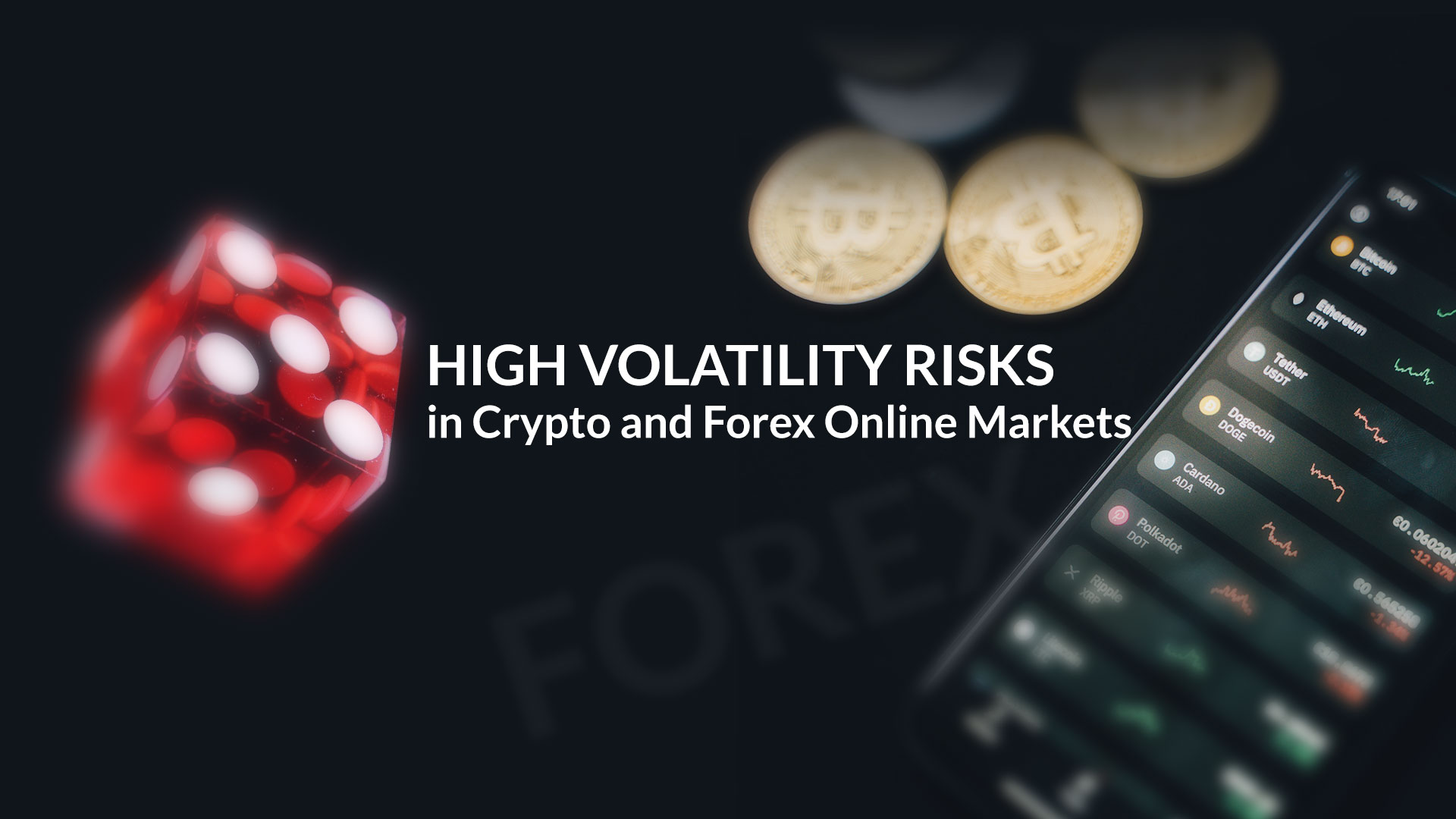 High Volatility Risks in Cryptocurrencies and Forex Online Markets
In the field of investment, risk and reward are inextricably linked. Traders are motivated to take risks, but such risks might lead to permanent and temporary consequences. While volatility is frequently used as a means for risk, it is simply one form of risk that investors encounter. Traders confront inflation risk, bilateral risk, credit risk, […]
In the field of investment, risk and reward are inextricably linked. Traders are motivated to take risks, but such risks might lead to permanent and temporary consequences. While volatility is frequently used as a means for risk, it is simply one form of risk that investors encounter. Traders confront inflation risk, bilateral risk, credit risk, liquidity risk, longevity risk, and horizon risk in addition to volatility. Most of these unstable positions in investment may be avoided by conducting comprehensive research and diversifying your portfolio. Forex and cryptocurrencies volatility is defined by frequent and immediate moves in exchange value fluctuations. Understanding how to trade currencies volatility will aid you to select which and how currencies should be traded. In currency trading, both crypto and real ones, volatility refers to the frequency and magnitude of fluctuations in a currency's price. Currencies can be reported as having lower or higher volatility regarding how much their price varies from the average value— volatility is a metric of standard deviation.
Many Foreign Exchange market participants alter the volume of their positions based on the risk they feel in trading a specific currency pair or timeline. When the stock is trading softly in a band or moving smoothly, it may boost its normal trading amount. The opposite point that should be considered is that if the market exhibits erratic and choppy price movement with no apparent overall direction, they may cut their position volume. Considering the amount of volatility in a marketplace is one of the most well-established techniques of measuring such investing risk in order to decide what volume of position is most acceptable for that area. Although high volatility trading circumstances might be linked to a market with significant exchange rate fluctuations in both orientations in forex market lingo, it can also be described analytically.
The concept of volatility
Market volatility is the fluctuation rate of the market's average value. This price fluctuation often occurs dramatically in a short-term period. The price of shares will change rapidly in a short-term period if market volatility is high. These changes can be interpreted as loss or gain. On the other hand, low market volatility means that significant price fluctuations may be less likely to occur and that market is more willing to stay relatively steady over time. Volatility is the most important type of risk, and it must be considered in terms of both individual safety and the whole portfolio. Because many assets are linked, investment portfolios are highly vulnerable to market risk. As a result, diversification entails more than merely distributing a portfolio over many assets.
Understanding the distinctions between volatility and risk
There are several key distinctions between risk and volatility. Volatility is uncontrollable, whereas traders can control risk in trading; with the latter, you are able and have the willingness to lead the risks. Both, on the other hand, have a solid bond. Investing in volatile currencies is risky since prices can swing dramatically in either direction at any time. This big fluctuation can amplify both gains and losses. A frequent trend in currency trading is a level of herd instinct, in which traders opt to take a risk on a turbulent market, primarily affected by the notion that other dealers are doing the same. Investors may sell at a lower value in the case of a financial meltdown, possibly losing a lot of money. You should constantly be mindful of the dangers and consider the benefits and drawbacks of each trade, particularly when the market is turbulent. Avoid taking risks based on a popular belief; instead, use your own assessment and your particular risk management plan to ensure that you only trade with the risk you are able to handle.
In summary, when investing, keep in mind that the risk associated with maintaining any position is heavily influenced by the degree of volatility observed in the currency trading rate throughout the time period in which the position is maintained. Volatility is mostly determined by the fluctuations in a currency trading rate. For historical data, it may be determined by looking at the amount of previous or historical volatility or by displaying the Bollinger Bandsaround the trading volume. Many investors use the degree of implied volatility used to value options on a currency to forecast potential volatility.
When determining the fair market value of a forex option, currencies option traders, for example, consider the future degree of volatility. Implied volatility is the market-oriented assessment of volatility which is inferred in option pricing that expires on a piece of specific information in the future. It'll almost always be given as an annualized percentage. Additionally, because the implied volatility applied to price options is decided by human resources, it will frequently exhibit typical indicators of ranges and patterns, as well as resistance levels and other characteristics that technical analysts may use to anticipate future implied volatility rates.