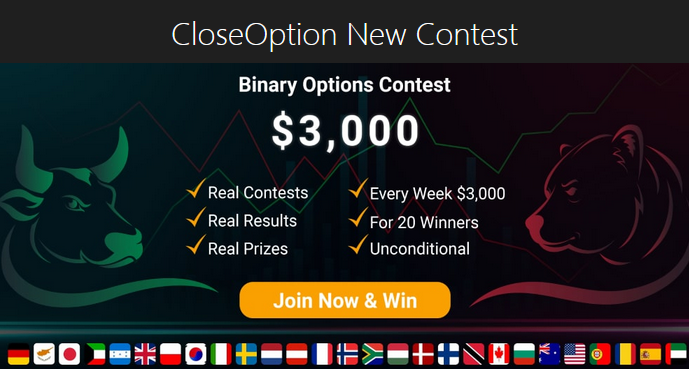 Exclusive Offer in Weekly Contests
We are thrilled to announce the launch of our latest contest and a special offer that we are running for our contestants. Not only do all winners receive their prizes, but we will also be giving cash gifts of $10-$100 to other participants in our upcoming competition as a token of our gratitude. That's right – regardless of whether you win or not, you will receive a cash prize just for participating.
The other conditions are as before and as follows:
Contest ends: 04.21.2023
Cash prizes for the top 20 contestants: $3,000
Gifts for non-winners (other contestants except winners): A random gift of $10-$100
Who is the winner? Based on the final results of the round, contestants holding one of the Top 20 places are winners
Entry requirement: Having a total deposit of $500
Entry fee and recharge items: CloseOption charges a fee of $5 for participation and provides recharge items of $5 and $3 for rejoining
Important note: We inform all the participants in our weekly contests that we are closely monitoring our competitions to uphold the highest standards of fairness and integrity. CloseOption is always committed to holding contests in a healthy environment and away from fraud.
For more information and to participate in the competition, refer to the Contest page.
www.closeoption.com
Join Us to Learn How to Succeed in Your Trading
person_addRegister