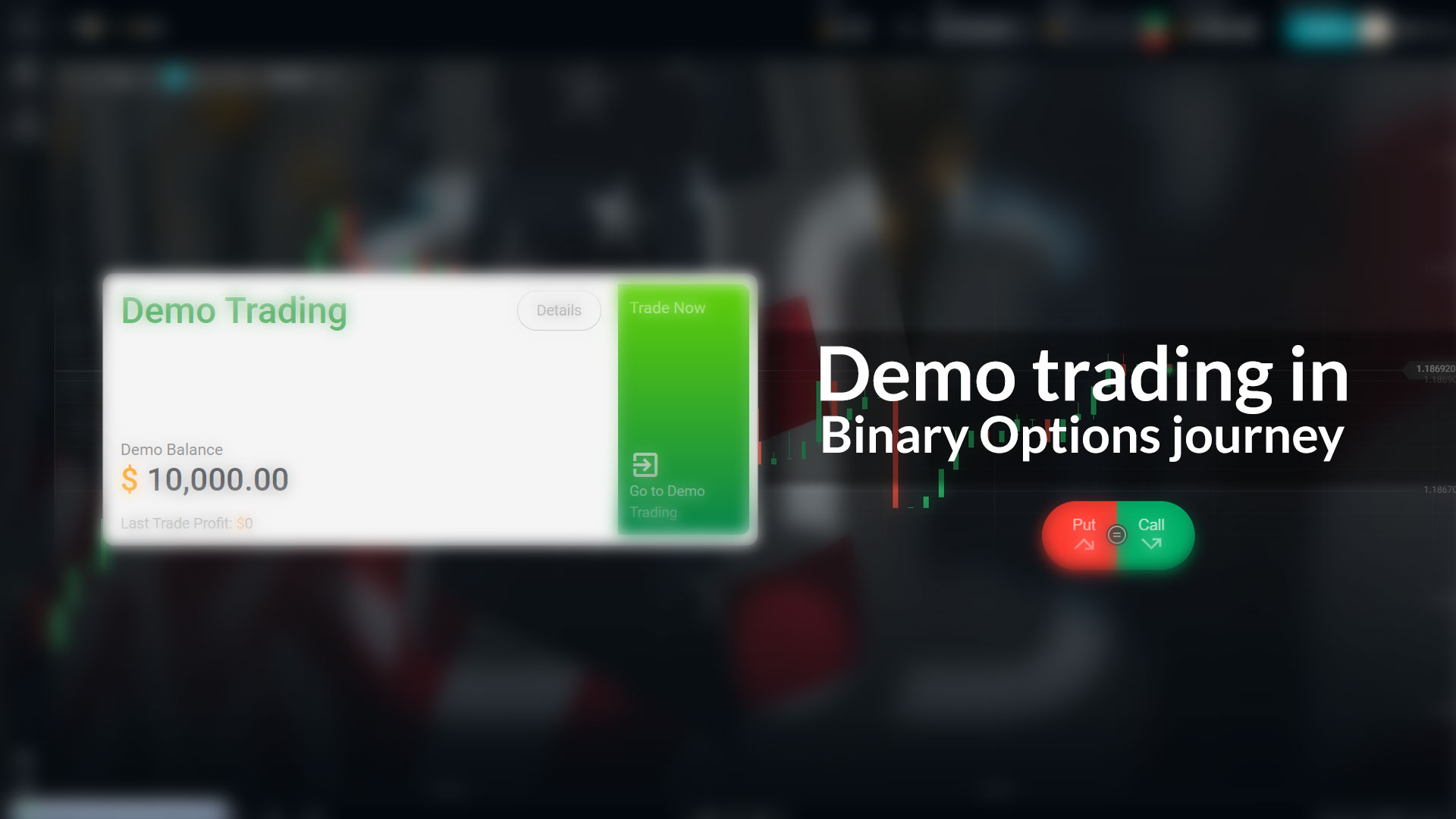 Binary options trading is pretty simple, and perhaps a novice can pick it up quickly. However, because of the inherent volatility of the financial system, it is dangerous for a novice trader to deposit a large sum of money and begin trading for real. As a result, many financial networks have a binary options trial option in place to give traders a risk-free trading field. A demo account is essential for a beginner trader since it needs no financial commitment upfront.
Binary options demo trading
Binary options demo trading is similar to real trading, except that it is financed with unreal money rather than real money. This is a fictitious currency with no real-world value. You may "trade" on the demo account exactly like you would on a real one. The demo platform operates just like the actual one, allowing you to do the same activities as if you were trading live. All of the data you see on the screen is current. It's the identical info that's being presented on the real platform right now. This provides a secure environment in which you may test your trading strategies and learn more about the platform. You receive the same experience as if you were trading in real-time, but without the danger. This gives you the opportunity to experience trading without risking any real money.
Psychology of trial trading
In the business, there are two schools of thought on whether trading with a trial account actually helps or harms your trading. Some say that because you are not endangering your own asset, your trading approach will be influenced, and you will be more ready to take chances than normal. Since the goal is to grow and learn, you won't be able to do so since you won't be practising trading in the same manner you would in real life. The other reason is that demo accounts are an excellent method to experiment with new features or assets, as well as different trading techniques and approaches. Any trading technique requires time to learn and master, and the proper approach to do so is to train with a live trial environment.
Advantages and disadvantages of demo trading in binary options
By registering for a binary options practice account, you may have access to a number of advantages. Of course, the most appealing aspect is that trying one out will cost you $0. Frequently, a trader will be required to supply their personal information to the broker. This way, they'll be able to contact you to see if you're ready to establish a regular account, make a deposit, and start trading. Apart from that, registering for a sample account is free. They also enable traders to develop trading techniques that will perform well on the real-time market. A binary options demo account was created to ensure that they could practise trading without risk. An investor might test alternative ideas and trading strategies without endangering any money by using this no-cost arrangement. Using a practice account allows a trader to learn all of a broker corporation's and their trading platform's potential faults and capabilities without risking any of their own money.
Investors will also be able to learn how to utilize the trading system effectively, which is a big benefit. Binary options practice account is a fantastic location for a beginning trader to start since they can get a sense of how it feels to make trades. This approach will offer students with digital money so that they may learn how markets work. This learning experience may also raise some worries for the trader, giving them the opportunity to ask questions of the broker's customer care representatives or to review some of the tutorials or other educational resources available. Any sort of inquiries that a binary options sample account could raise can assist the investor in learning a lot more about the broker and how they handle conversation and engagement with their clients.
Some people may wonder if there are any drawbacks to signing up for a binary options sample account. There might also be two minor drawbacks. The first is that there is no extreme threat, and while a trader may lose their asset, it does not have the same psychological impact as losing real money. While a practice account saves a dealer money by allowing them to make fake transactions, it does not allow them to learn about the sorts of sentiments that may be involved in a real trade that ends up in the red. Another disadvantage of binary options trial trading is that there may not be any sort of financial coaching or education. A trader may be provided with a large sum of assets to trade with on the digital marketplace, ranging from $50,000 to $100,000. However, because there are no workshops to accompany these simulated sessions, they may be lacking in knowledge on how to manage greater sums of money. It is also unlikely that they will begin their trading career with such a large deposit.
Overall, creating a trial account may help a trader understand a lot of the fundamentals of market trading. There is no real asset on the line, providing a sense of safety without the risk of losing money. The newbie may be the one who benefits the most from this type of setup. It is critical for investors to make use of these binary options demo accounts so that they may get a feel for the system before putting down a deposit and risking their actual money.
Tips for newcomers to binary options trading
New traders fail since they lack the requisite binary options understanding. Hence, we recommend that you train on a binary options trial system as you discover how to perform in the binary market and get more comfortable negotiating the benefits and drawbacks of various financial assets. This is a risk-free method to put what you've learned into practice while minimizing losses. New traders should investigate whether a binary options trading system offers binary option trading demonstrations, given the possibly unpleasant learning curve. A binary options sample account is one of the most beneficial tools available to a novice investor. It enables you to design a successful profit-generating plan.
Please note that not all brokers provide binary options demonstrations. However, another advantage of a trial account is that you may discover how the online brokerage system operates at your own leisure and without risk.
Finally, and probably most significantly, binary options trading demonstrations allow you to check out a variety of trading systems with no risk. You can decide about which brokerage best meet your needs after you have a better understanding of the available systems.
Join Us to Learn How to Succeed in Your Trading
person_addRegister