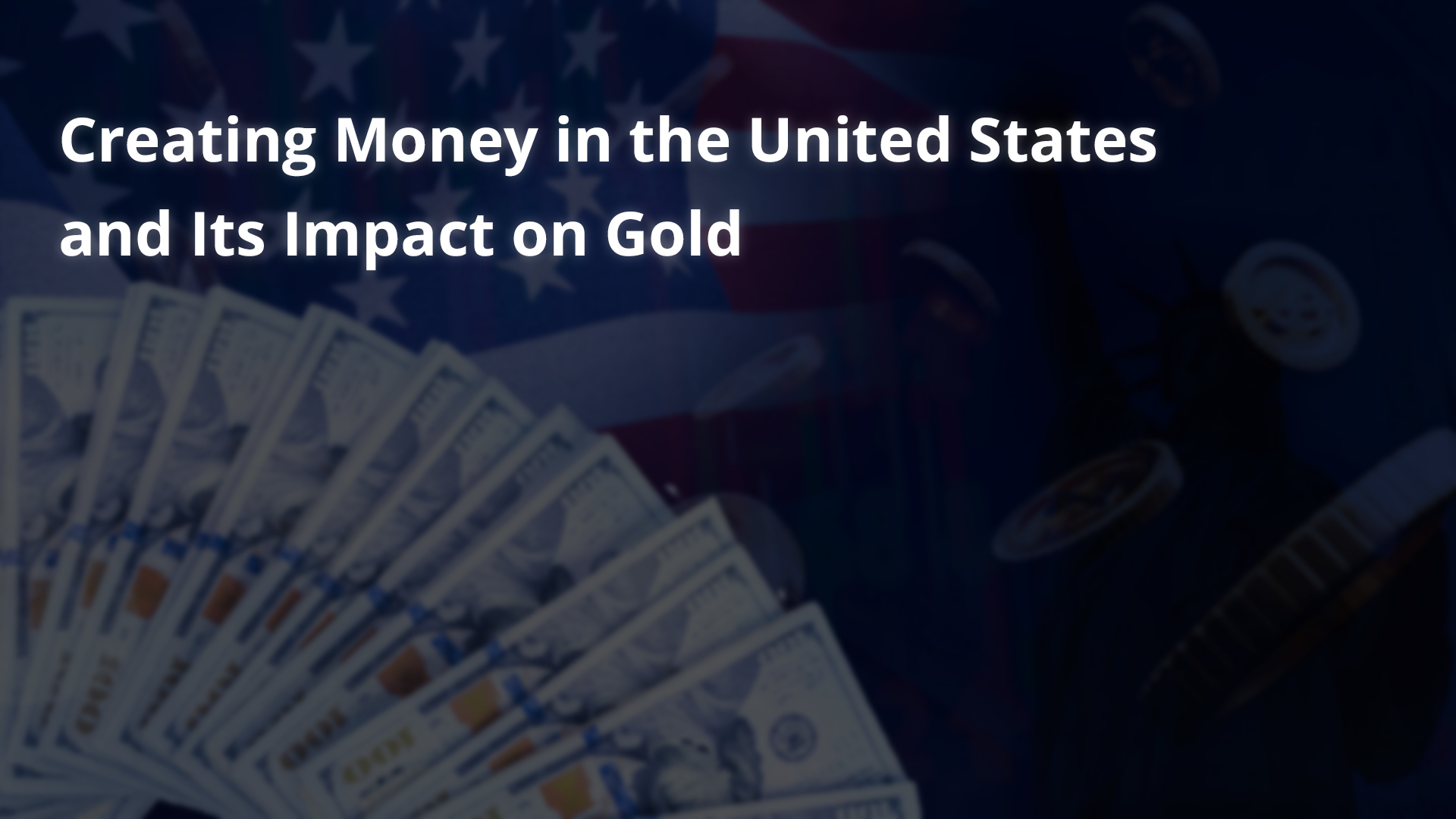 Creating money is the way of increasing a government's or an economic, monetary base. The majority of the monetary base in most developed economic systems is in the form of bank deposits. Financial institutions measure the monetary base, including currency and bank deposits, to keep track of the quantity of currency in circulation. Whenever the economic base rises, money is created. Money creation has some effects on gold and its industry. This effect is evaluated in two categories:
1. short term
Creating money in the United States is driving down the price of gold. Usually, when money is created, governments increase the price of gold through several different processes to compensate for its negative effects. As a result, gold buyers tend to buy it at a low price, which is why the government's price is falling. For example, suppose today, October 15, the price of gold is about $ 1,760 per ounce, and the price of gold is likely to fall to $ 1,400 over the next six months. At current prices, governments can easily buy gold, and as mentioned in the previous article, money creation in the United States will increase to about $ 5 trillion, or $ 5,000 billion, in the short term. This money creation will allow governments to reduce the price of gold in the short term. It should also be noted that psychological factors such as the story of the corona's decline and the short-lived influx of cryptocurrencies on the market are turning gold into digital currencies, helping to push gold up to around $ 1,400.
2. What happens in the long term?
We must first make it clear that when we talk about a long period, we mean 2 to 3 futures. Under the current circumstances, and according to previous explanations, $ 5 million of money has been created without any special support and basis, and governments must be held accountable for their budget deficits. What is better than gold? The price of gold has now dropped to $ 1,400. In the process, gold is purchased and will increase dramatically over a period of 6 months to a year. This price trend is moving towards 2050 first and after breaking the 3500 and possibly $ 5500. This price increase process is likely to happen very quickly. This process happened once in the past, in the 80s. In other words, the price of the dollar rose from about $ 200 per ounce to about $ 1,800 and $ 1,900 per ounce in a short period of time and returned to about $ 200 again a few years later. So we conclude that in the long run, the money created in the United States has caused a very strong peak in the price of gold and reduced it again.
 The purpose of this decrease and increase
The price of gold is raised to make up for the budget deficit, and governments buy gold at low prices and then sell it as the main sellers at higher prices, for example, around 5,500. Then people sell their gold capital as a result of fear of falling prices. They sell, and the price goes lower and lower. This means that the price of gold is likely to rise from $ 5,500 to about $ 1,700 after that. That is, you consider the tolerance of the figure number 23% and 38%, that when the price reaches 5500, 7000 and even 8000, it does not matter if it increases or decreases, and this talk will be true. In short, the price of gold rises, and governments sell their share at high prices and exit the market. As a result, people sell their gold, and this courier offsets the government's budget deficit. It should also be noted that those who buy gold at a high price, who are usually ordinary people, suffer greatly.
According to the processes mentioned above, see gold as a multi-purpose backing. It must be said that gold is sometimes a sword, sometimes it is food, sometimes it is poison, sometimes a sword which is poisoned, and finally, sometimes food that is poisoned. In this tortuous process, "who buys" and "who sells" is very important. In practice, there is no such thing as an absolute backing in gold, and it is precisely a tool. When it needs to increase, it will increase so that governments, particularly the United States, will make up for their budget deficits. On the other hand, when it is declining, gold reserves were originally sold in the United States to make cash and replaced by the same gold again at very low prices.
Let's look at the example of the sword. Gold is sometimes a sword, a sword for whom? A sword for those who buy gold at 5500 with a tolerance of 38%. Gold is sometimes food for those who buy gold for $ 1,400. This group usually includes governments or experienced investors as well as those who make long-term investments in gold. Gold is sometimes poison. In practice, for those who bought gold in 5500 with the intention of a short-term investment. Poison is deadly in practice, sometimes worse than a sword. Sometimes a sword is poisoned. Consider, for example, that a person may have borrowed money to invest in gold or, for example, have a foreign debt to a government; To avoid losses, a government like Turkey should turn its capital into high-priced gold, for example 5,500. This is the poisoned sword that causes it to go bankrupt. Therefore, who the buyer is when to buy, and when to sell is very important.
Final words
As a result, if we want to summarize the ten-year scenario of the United States, the following points can be highlighted:
Gold prices fall to around 1500 or less than 1400. Who are the sellers? In the short term, ordinary people are now selling their gold in order to buy cryptocurrencies and earn a decent income in the harsh conditions of the corona. The price of gold then rises to $ 2050 per ounce and then to 3,500. The buyers here are the central banks of the world's leading and developed countries, especially the United States, China and the United Kingdom. After that, the price drops again to $ 1700. At this stage, the sellers are the central bank of governments and some conservative investors. In practice, money goes from the pockets of cowardly governments that have bought gold at high prices to the pockets of rich countries, including the United States, Britain, China, and those who defined the scenario.
Meta description: Creating money has some negative effects, which are compensated by an increase in the price of gold and changing the state of the gold industry.
Join Us to Learn How to Succeed in Your Trading
person_addRegister