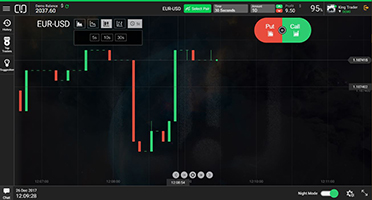 Table of Contents1 The Features of Charts and Tools for Analysis Options Trading and Forex2 New possibilities are added to CloseOption's Trade Room2.1 1- Now three new charts are incorporated in CloseOption (previously, we only had Area chart available):2.2 2- Optional Periods in Close option for Candlestick and bar charts:2.3 3- We have provided traders with new possibilities to […]
The Features of Charts and Tools for Analysis Options Trading and Forex
In Forex and Options Trading, charts play a central and crucial role in the prediction of the price movements and market volatility. Due to the increasing popularity of charting tools, most Options Trading Brokers provide these technical tools.
New possibilities are added to CloseOption's Trade Room
1- Now 

three new charts are incorporated in CloseOption 

(previously, we only had Area chart available):
Candlestick chart

: Candlestick is a charting tool and the most famous and popular chart with which every Forex trader is entirely familiar with its mechanism. It represents price volatility (four essential elements including the open and the close prices, and also the high and the low shadows), and based on data analysis, which is mostly known as Technical Analysis, traders can place secure orders. This candlestick chart is presented in different periods. We calculate the shadows accurately and offer them to traders.

Bars chart

: in many respects, this chart is very similar to the candlestick. It is drawn according to different periods and shows the calculated shadows. This chart is also famous and well-known among Forex traders.

Line chart

: this chart is the same as the Area chart, with the difference that there is no shadow below the graph and is especially for those who like simplicity. We are thinking of all the tastes.
2- 

Optional Periods in Close option for Candlestick and bar charts

:
Traders themselves can select these intervals and which chart to show at which period.
3- We have provided traders with 

new possibilities to move across the chart

 (drag it back and forth) instantly and softly on both your Mobile Phone and desktop PC as if it is under your control and moves with you!
4- 

New Mobile Features in CloseOption

:
We have optimized the trade room for mobile phones. Enter the trade room via your mobile browser and put it into full-screen mode, and enjoy trading. It has become more fluent and optimized and also has the possibility of live touch. You can determine the place of call/put buttons, like on your PC desktop.
5- Full-Screen Button: a trader can see the trade room in full-width mode and enjoy trading.
6- All the animation effects have become softer and more optimized.
Future possibilities:
Forex analytical tools (indicators) including:
Line, trend line, horizontal line, Fibonacci lines, alligators RSI, MACD, etc.
Please do not forget to make us happy with your comments and feedback.