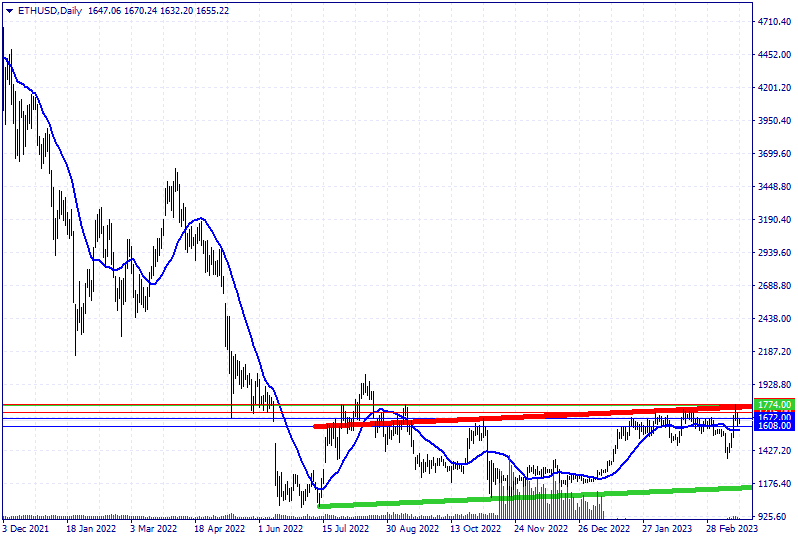 An overview of important support and resistance levels of the four major currency pairs of the ongoing week. (Ethereum Technical Analysis)
• First key support level of EUR/USD: 1.053282
• Second Key support level of EUR/USD: 1.048146
• Third Key support level of EUR/USD: 1.039048
• First key resistance level of EUR/USD: 1.057386
• Second Key resistance level of EUR/USD: 1.064
• Third Key resistance level of EUR/USD: 1.075944
• First key support level of USD/CHF: 0.916052
• Second Key support level of USD/CHF: 0.910064
• Third Key support level of USD/CHF: 0.905927
• First key resistance level of USD/CHF: 0.928451
• Second Key resistance level of USD/CHF: 0.942032
• Third Key resistance level of USD/CHF: 0.95
• First key support level of GBP/USD: 1.2
• Second Key support level of GBP/USD: 1.192538
• Third Key support level of GBP/USD: 1.183646
• First key resistance level of GBP/USD: 1.212168
• Second Key resistance level of GBP/USD: 1.220425
• Third Key resistance level of GBP/USD: 1.244654
• First key support level of USD/JPY: 132.290258
• Second Key support level of USD/JPY: 131
• Third Key support level of USD/JPY: 130.037715
• First key resistance level of USD/JPY: 133.016151
• Second Key resistance level of USD/JPY: 135.355979
• Third Key resistance level of USD/JPY: 136.901168
Ethereum Technical Analysis – Ethereum Overview on 03,15, 2023
As mentioned in the previous analysis of the Ethereum currency on 06.21.2022, the price had the potential to rise, and the buyers, as predicted, managed to increase the price from the mentioned harmonic pattern, and almost a weak uptrend was finally formed. However, according to the chart in higher time frames, such as monthly and weekly, no clear and transparent reason for price decrease can be seen, and with the formation of the hammer candlestick pattern in the previous week, the buyers' control and tendency to increase the price and to achieve higher prices is quite visible.
During its ascent, the price stopped rising further by reaching the resistance area of $1716 to $1781, and some buyers tried to close their positions, which resulted in the formation of a long upper shadow in the previous day's daily candle. Generally, due to the recent strong uptrend, traders should foreshadow a price correction and decrease, which can cause the price to decrease to $1672 and, in a more severe case, down to $1600 if it happens.
If the price chart starts the correction scenario and decreases since we have some confirmations which show that the price is more likely to continue its uptrend in the long term, and if low piot forms in the mentioned resistance area ( if the resistance area becomes a support area) or in the case of more correction and decrease down to $1672 or $1608 support levels, the price would be very attractive for buyers, and they most probably will start to buy. In this case, their target point in the short term will be $1774 and $1900 in the next level.
Join Us to Learn How to Succeed in Your Trading
person_addRegister