Misunderstanding in Forex and Binary Options When the traders start Binary Options trading, they are not capable of making a profit well. They are able to predict Forex market well, although they fail to be sure in Binary Options. Even though Scalper traders are not able to earn a profit in Binary Options, they predict […]
Misunderstanding in Forex and Binary Options
When the traders start Binary Options trading, they are not capable of making a profit well. They are able to predict Forex market well, although they fail to be sure in Binary Options.
Even though Scalper traders are not able to earn a profit in Binary Options, they predict market correctly in spite of avoiding earning profit.
The important factor in Binary Options is the time when you are scalper or long-term trader in the traditional Forex Market. Your position is open for a long time till the market touch your stop loss or make a profit. Yet your time is a limitation in Binary Options.
Provided you are a short-time scalper in the Forex market, you will open a position. It will go to 1 or 2 pips profit. Your profit will be touched and you will earn your profit. However, in Binary Options perhaps the market will come back and you lose! Just look at below example: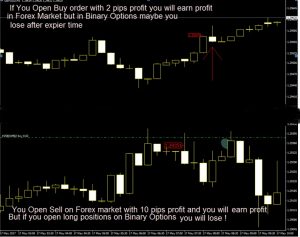 If you look at the above picture carefully, you will understand my purpose about the most important difference between Forex market and Binary Options trading.  Most of the Forex traders will ignore this factor.
Now you understand that why you are not able to earn a profit in Binary Options. It seems to be easier than Forex market but in reality, everything is different.
Binary Options and Forex Trading: Understanding the Difference